Microsoft Teams: Tips for Remote Workers
With your workforce scattered, getting things done and working in collaboration can be challenging. Fortunately, you can look to a variety of Microsoft Teams tips to help coworkers feel connected and productive.
So you can get the most out of Teams, we're offering this free training with SWAT experts and guest speaker, Tim Rettig, CEO of Intrust IT. Recorded earlier, this webinar offers an inside look at how IT service providers have been using MS Teams for years. You'll learn best practices and tips you can use right now.
Check the replay on the SWAT YouTube channel. Share it with your co-workers, too, and make working remotely better for everyone.
Microsoft Teams Tips Presenter
A little about our guest speaker for this webinar: Tim Rettig knows Microsoft Teams inside and out. His firm, Intrust IT, is one of the fastest-growing IT companies. Based in Cincinnati, Ohio, Tim has been a peer partner with SWAT Systems for a decade. Also known as The Orange Suit Guy, Tim makes sure this Microsoft Teams training session is fun, info-packed and easy to follow.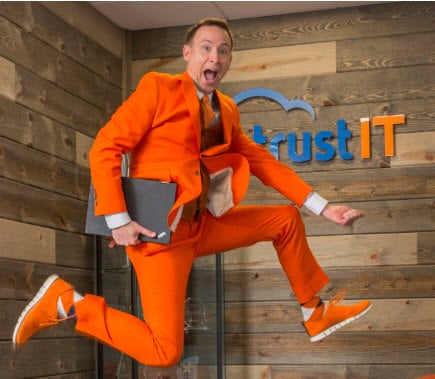 We hope you enjoy this webinar. If you have questions about getting your team started on MS Teams, contact us for help.
Get a Complimentary Network Assessment
Our complete network audit looks for current and potential problems and provides you with an actionable plan for improvement. First, we do a complete review of your network stack, along with current tools, technology and hardware and other technology-related concerns. At no cost and no obligation, your company receives:
Call (‪206) 436-3020‬ or complete this form